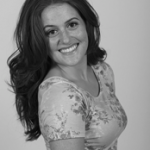 Senior assistant instructor
Little did Olivia know that dancing in her room at the age of three was only the beginning to an exciting path of pursuing her passion. After growing up dancing at 4th Street she knew that she would be continuing on in the performing arts as it was her biggest joy. Being the youngest of five siblings she was surrounded by continuing love and support of her dream. Not knowing any differently, Olivia was always told to find what makes her the happiest and share that gift with the world. And that is exactly what she did.
Olivia trained at Broadway Dance Center in the Professional Semester in New York City, working with well known Choreographers such as; Sheila Barker, Tracie Stanfield, Matthew Powell, Jim Cooney and Rhapsody. Also getting the opportunities to dance on "Good Morning America" as well as "The Carson Dailey Live Show". Knowing that home is where the heart is, she decided to continue her dance, acting and modeling career here in Minnesota with her two agencies she is currently signed with.
While Olivia is currently pursuing a career in acting and dance, that still wasn't enough. She decided what better way to share her love and passion for dance than teaching at 4th Street Dance Centre. Olivia has continued her training by taking classes in Minneapolis as well as traveling to New York a couple times a year! The past two years she has traveled to multiple Monsters of Hip Hop conventions and continues to do so. She is passionate, hard working and always promotes positive attitudes at the studio. Olivia's joy of teaching has only grown the past two years and she can't wait to continue to share her gift with all the talented and inspiring students at 4th Street!
Contact
Phone: 651-426-9644