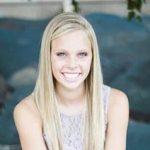 Senior Assistant Instructor
Maggie Koller's dance background is a little different than most. Having spent the first 14 years of her life as a gymnast and diver, she did not officially begin dance until her freshman year of high school, when she attended a summer dance session at Fourth Street Dance Center. Safe to say, it was love at first plié.
After dancing her freshman year on her high school's dance team she decided that she wanted more. The following summer, she auditioned and achieved a spot on 4SDC's Shining Stars competitive line.
Within her three short years as a competitive Fourth Street Dancer, she danced on the Shining Stars and the Stars lines, on the competition hip hop line, as well as dancing two duets, and a solo.
Following her graduation from Hill-Murray High School in 2013, she took a year off of dance, but feeling as though something critical was missing, she came back to her Fourth Street home and began assisting classes. She feels so lucky to be able to share her passion for dance with the many talented young individuals of Fourth Street Dance Center.
Contact
Phone: 651-426-9644