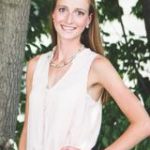 Senior Assistant Instructor
Maddy Schwartz began dancing at 4th Street at the age of four. She started competing at the age of six, dancing on all of the main competition lines. She was a leader and role model for other dancers as she was co-captain while on the Shining Stars and Stars lines. Her small groups, trios, and solos received recognition at regional and national competitions. During her last two years of dancing at the studio, she was a junior assistant. She is grateful for this opportunity as working with the younger dancers helped her find her passion for teaching.
After dancing at 4th street for fourteen years, she continued to dance at Gustavus Adolphus College. While receiving her Bachelors Degrees in Dance Honors and Exercise Physiology, she was a member and president of the Gustavus Dance Company. As a company dancer, she was able to choreograph for, and dance in many concerts with a featured performance at the American College of Dance Association in Madison, Wisconsin. While training in modern, ballet, pedagogy, and composition, she studied under Jill Patterson, Melissa Rolnick, Melissa Herrada, Jordan Klitzke, and Natosha Washington. Her senior year, she received the Distinguished Dancer Award for her commitment and diligence in her practice for four years.
Currently she is continuing to dance and create. She is dancing with Grace Upon Grace, a sacred dance company showcasing how faith intersects with movement. She is also choreographing for local theatre companies.
She is excited to be back at the studio sharing her knowledge and love of dance with the students, working alongside the teachers that continue to inspire her.
Contact
Phone: 651-426-9644