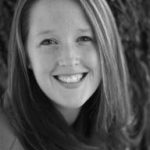 Recreational and Competition Teams
Crystal Secor is a 2008 graduate of the University of MN where she received her BFA in dance. While studying at the U of MN she had the opportunity to work with Guest Artists Ananya Chatterjae, Bebe Miller, Sardono Kusumo, as well as local artists Jeffery Peterson and Karen Charles of the Threads Dance Project.
Prior to her studies at the U of MN, Crystal completed a BS in Kinesiology from the University of WI, Eau Claire. While at UWEC she participated in the Concert Dance Company, a student organized dance group that presented original student choreography and participated in ACDFA. She is a current member of Eclectic Edge Ensemble and has been a member since 2009. She is also a member of AMP (Alternative Motion Project) and will begin her second season of performances this fall.
When she's not rehearsing she teaches tap, jazz and ballet at the studio where she grew up dancing as a Senior Competition Assistant. She joined the Lux Winterguard for the 2014-2015 season an independent color guard which provides educational and performance opportunities in the art of color guard. Crystal would like to thank her husband and family for all their support!
Contact
Phone: 651-426-9644